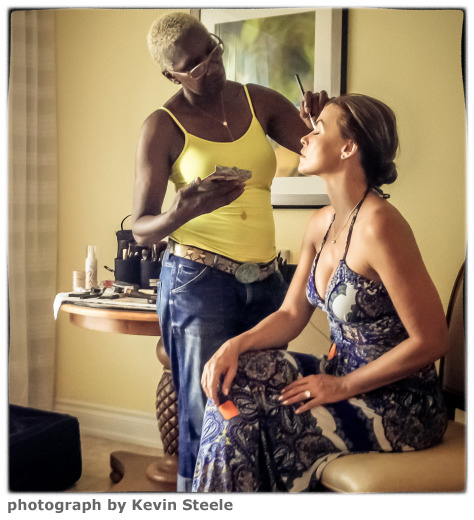 Melvone Farrell is a straight-shooter who has conquered two continents. A dynamic makeup artist, her no-nonsense philosophy translates into a down-to-earth yet unforgettable experience for those who work with her. Don't be fooled by her minimalist approach to makeup – beauty comes alive with a touch of her brush, as she's known for creating radiant, effortlessly chic looks that appear to glow from within. Did we mention her signature fabulous eyebrows?
With a prestigious roster of clients that includes: Cameron Diaz, Tyra Banks, Eva Mendes, Muhammad Ali, Andy Garcia and T-Bone Burnett, Melvone's work draws an eclectic and world-renown fanbase.
Born and raised in London's East End, Melvone combines her global sensibilities with an uncanny knack for adaptation, whether she's in Los Angeles, Paris or Milan. Always infusing energy into her environment, Melvone's intuition and extraordinary people skills allow her to transition seamlessly from a Keith Richards music video to a Cover Girl commercial to a shoot for Vogue UK.
Melvone possesses certain je ne sais quoi that sets her apart from the rest, drawing praise from highly-acclaimed photographers and directors such as Marc Royce, Donald Miller, Andrew Williams, Liz Friedlander, Maurice Marable and Robert Townsend. Melvone's distinctive work can be found in the pages of publications such as Entertainment Weekly, Elle Italia, Marie Claire and People Magazine, and in commercials for Vidal Sassoon, Jaguar, Nike and Coca-Cola. Her film work can be seen on the big screen with the 2008 release of Least of These. Melvone is based in Los Angeles, where she continues to hone her considerable creative talents.

Download Melvon's BIO as a PDF